Sunshine Paving Corporation began operations in 1989. Since then, we have grown into a full service Paving and Construction company with highly motivated and experienced employees, many of whom have been with the company for a long time. We believe our company is competitive because we offer the best service, experience, equipment and safety record in the Massachusetts and surrounding areas.
Sunshine Paving Corporation is a highly regarded and valued bonding client of The Ohio Casualty Insurance Company/Liberty Mutual. Sunshine Paving Corporation has developed a long and successful track record of completing contracts on time and within the available budget. In accordance with the Regulations Governing Pre-qualification of Contractors, as approved by the Massachusetts Department of Transportation, we are prequalified in the following classes of work: Pavement Surfacing, Highway Construction, Drainage, Pavement Reclamation, Recreation Facilities, Bike Paths, Sidewalks and Curbing. Sunshine Paving Corporation is also a proud member of the Construction Industries of Massachusetts (CIM).
---
SERVICE
Sunshine Paving Corporation is a full-service General Contractor for site and paving projects. For a complete list of services and materials we furnish, please visit our service pages in the navigation. Because of our personalized service and highly experienced employees, we are able to work efficiently with all levels of personnel to complete all projects assigned on schedule. Our staff can assist in decision making when it comes to unforeseen issues that may come up on a job in order to complete the work as quickly and in the best interest of all parties involved. We will go out of our way to provide as much guidance as is necessary to solve problems, stay within the agreed-upon construction schedule, and to complete the most desired outcome available. Please be sure to visit our Our References page to read some of the customer comments about our high level of service.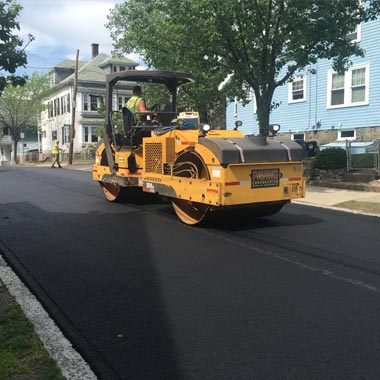 ---
EXPERIENCE
Sunshine Paving Corporation is currently celebrating 28 years of success in this industry. The majority of our employees have worked with us year after year and share a long history with us. We value our employees and their experience so we do what it takes to keep them up to date with the latest safety guidelines, technology and equipment available. Their on the job experience could not be more valuable when it comes to problem solving, meeting deadlines, working with all levels of management and government agencies. All supervisors are in constant contact with company management which results in a well-run organization.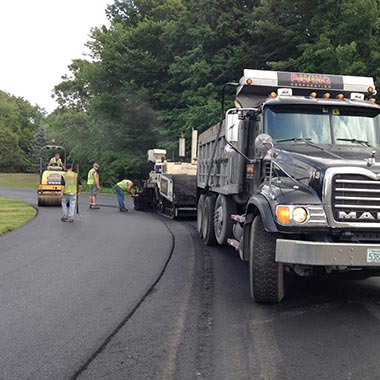 ---
EQUIPMENT
We are proud to own and maintain the best available site and paving equipment. Because we take the time to research every purchase before it is made, we now own a highly functioning fleet of trucks and equipment which allows us to perform all types of work in a safe and timely manner. Our management stays up to date in the latest construction and paving technology. Our fleet includes rollers for the necessary compaction, multiple pavers for jobs that require different size pavers, site equipment for performing different types of jobs, a tri-axle program in which we replace triaxles on a rotating basis to ensure our trucking fleet is up to date and safe for transporting material. All of our trucks are outfitted with GPS to ensure that the Transportation Manager is able to monitor delivery time and safe driving speeds. We employ a full time shop mechanic who is available to attend to any issues that may come up during a job. Although rare, should a piece of equipment need maintenance while on a job, our mechanic is able to visit the site and make any necessary repairs to get the machine up and running as quickly as possible.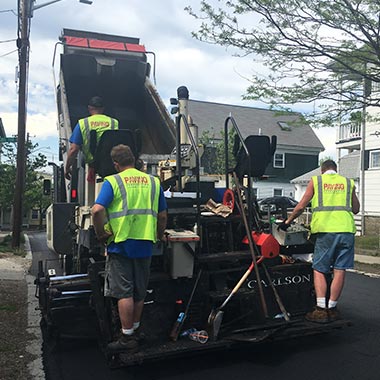 ---
SAFETY
There are two major areas of safety in which we focus our attention: Employee Training and Equipment Maintenance. As for the employees, we begin as early as the job interview to determine if the applicant is a safety minded individual with common sense. Once hired, all employees attend a safety meeting, as well as annually each spring, to discuss safety issues. Our insurance representatives attend these meetings to ensure that all grounds have been covered. Employees work closely with the foreman of the crew to which they are assigned. All employees are required to wear safety vests/colors and to adhere to the Sunshine Paving Safety policies that are covered each year at the safety meeting. All employees are required to take and pass the 10-Hour OSHA Safety Course and to adhere to all local and state laws.
The second area of attention with regard to safety is the equipment maintenance program. Sunshine Paving Corporation is able to enjoy a few months of down time each winter in which the Shop Mechanic oversees a crew of garage maintenance personnel to go through each piece of equipment and each truck to determine which parts, if any, need to be replaced and which maintenance work needs to be completed in order to deliver the safest equipment to our crews each spring.