Sunshine Paving Corporation has a fleet of tri-axles for transporting our construction materials and hot mix asphalt. We also have our own tractor/lowbed trailer for transporting our equipment.
Because our trucking fleet is large, we are able to control the timing of our stone and asphalt deliveries. It is very important when installing hot mix asphalt that the mix arrive on site while still at a high temperature.
Since we are not dependent upon other parties to deliver our asphalt and stone products, we have greater control over our schedule and are able to avoid delays on site that would be caused if our crews were to be waiting around for materials to be delivered by third parties. We can also control the quality of our finished product by ensuring that the hot mix asphalt is at an acceptable temperature during installation.
Truck Rental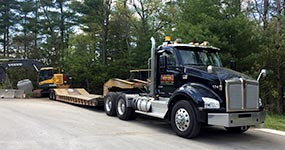 Although our trucks are typically used in our own paving and construction operations, we may from time to time have trucks available to rent to other contractors. Keith Marshall, our General Manager, is available to discuss truck rentals with you should you want to check on availability. Keith can be reached by email or by phone at the office: keith@sunshinepaving.com or (978) 250-1233.